Exe Shed was opened in July 2007.

Much of Exeter City Centre was redeveloped between 2004 and 2007, the new shopping areas opening on 20th September 2007. There was much controversy before the building but sentiment subsided once buiding got under-way. The development was known as "Princesshay" after the 1950's version it was to replace.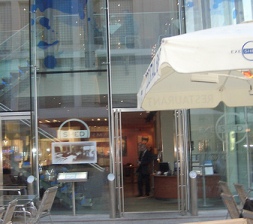 The Bedford Street part of the scheme opened several months earlier than the rest of Princesshay.
The bar and restaurant is housed in a contemporary glass pavilion building, decorated with reflective scenes of Exeter cathedral. There is an outside terrace in Bedford St, ideal for smokers. Inside on the ground floor is a large cocktail bar and dining area and on the first floor is a modern restaurant and separate glass covered terrace.

Upstairs Restaurant
The bar is one of these typically continental cafe bars, but does open during the evenings during normal pub opening hours and is therefore included here.
Stuart Callon Copyright ©2007