The Globe Inn was built in the C17th and destroyed in 1942.
Brice's Mobiad (1770) refers to a Globe Taverne famous for Cock fighting, in the line,

"The Lion trembling as if heard below
At once the Globe's collected cocks will crow."

The poem was finished in 1738.

Hoskins' states that no inns are known to have existed in Cathedral Yard until the coming of the Globe in the very early C18th. It is first mentioned in a poor rate assessment for 1708 (E.C.R. Miscellaneous Books, No 159b).

Trewman's directory (1796) lists the place as the Globe Inn with John Luccombe resident.

Dymond (1880) mentions that the Globe existed in St Mary's yard at least as early as 1726. He also mentions that it was famous for cock fighting.

Between 1815 and 1825, the Company of Weavers, Fullers and Shearmen held annual dinners here.

Besley (1828) mentions that a Serge Market was held in front of this hotel.

Husseys hold details of an Investments sale here in 1856.

*The meetings of the country's first apiarian (bee-keeping) society were held at this hotel for 10 years from 1797.

*In 1772, a plan of the tavern was drawn by John Tothill (a surveyor) when William Rigg (a maltster) took lease of the inn.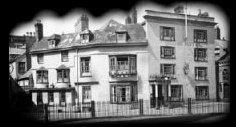 As displayed in the picture above, the building(s) were a combination of styles, originally Tudor (containing a superb oak pannelled room), with Georgian additions to the right. The building became the Globe Taverne in 1674 having previously been the residence of the Northmore family (St Martin's Parish Register*).
*In a will of 1711, Thomas Northmore left the family home to his daughter Anna.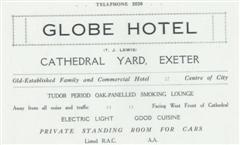 The advert above was featured in a City Council guide book just before the place was detroyed during WW2.
Stuart Callon Copyright ©2002-2004
* Peter Thomas / Jacqueline Warren, Aspects of Exeter (1980)