The Half Moon Hotel was one of the largest hotels in the City becoming an Inn in the mid C17th. Local tradesmen regularly met here for a glass or two of grog and a pipe before returning to their shops to catch the London letters which arrived around 4pm in the early C19th.

Originally a coaching dating from around 1680 and known as an inn before the use of "hotel" around the turn of the C18th. Like the New Inn, the Half Moon had some spectactularly decorated ceilings, now the property of the Royal Albert Museum.

The Nautilus (coaching service) left here at 5 pm daily destined for London, once the London Telegraph had arrived.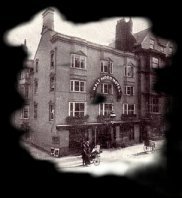 The hotel was demolished in the summer of 1912 to make way for Lloyds Bank and Deller's Cafe.
Besley (1828) states that Freemasons Lodge 178 met here on the second Thursday of every month.

According to White (1850) it was known as the Half Moon Inn (22 High street) with Ann Stephens resident. In 1878, the resident was Thomas Gardner.

One interesting point that Kelly (1889) shows is that although the hotel fronted on the High Street, it also had a bar around the back in Catherine Street known as Half Moon Vaults, this would have been a tap bar much like that seen at the present day White Hart in South Street.

Stuart Callon Copyright ©2002-2004