The Ship Inn has had some very famous visitors in its time including Raleigh, Hawkins, Grenville and Drake.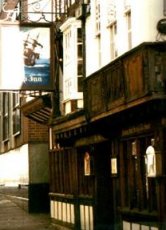 Drake apparently wrote in a letter dated 1587, "next to mine own shippe I do most love that old shippe in Exon, a tavern in Fysh Street", as the street was then known to the people (St. Martin's Lane to the Clergy)...."There yester'en I had some speach with a mariner fresh come hither from Plymouth. The power of Spain is already afloat, so in the morning please God, I am for Plymouth and for another shippe than this". He had a quick game of bowls before giving the Spanish Armada a bashing.
Drake though could not hold his drink and was once kicked out out the Ship for being drunk and disorderly.
During the Civil War while Exeter was under siege from Genearl Fairfax, Cavaliar Captain Benet quartered his troops at the Ship.
In 1710 a mob also tried to burn it down as they thought some Whig-sponsored clergy were staying.
The Ship is shown on a map of 1876 as a long slender building stretching back from Martin's Lane. In 1910 an adjacent building, the premises of a bookseller was taken over by the Ship making the the bar areas as large as they are today.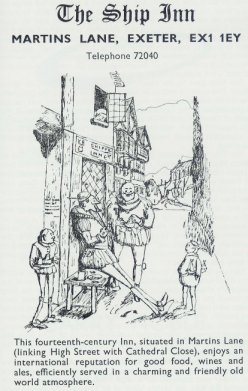 White (1850) lists Sarah Goodwin as resident at 5 Martin Street although today an address of 1-3 Martins Lane is given.
Major interior renovation in 1997 saw the ship develop from a cosey pub with a centrally located bar to the one that can be seen today. It lost alot of character during this renovation. The bar now occupies the RH wall as you enter, this was for may years a seating area. There used to be restaurant upstairs that is now closed. The pub now appears much larger than it ever used to be. It also used to be carpetted, but now there are bare floorboards.
Stuart Callon Copyright ©2002-2004