The Swann Inn stood at 5 Catherine Street and is shown on the O.S map of 1876.

In 1890, was noted as an ancient inn with brewhouse attached. The sign was that of the Cary family.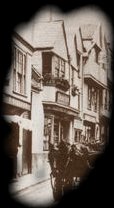 The property was practically totally re-built in 1906 and in June 1923 was sold to Mr Plumber and taken into his drapers shop. This shop subsequently became Colsons which was destroyed in WW2.
Colsons was rebuilt after the war and later taken over by House Of Fraser and re-branded Dingles.
Stuart Callon Copyright ©2002-2004