The Three Tuns Inn is not shown on the 1876 map and was closed in 1913.

It was around as early as 1791 according to the Exeter Flying Post.

The site was occupied by Depaolis Cafe, then Wilson (a draper) and then by the Domestic Bazaar before being blitzed.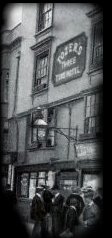 Robert Dymond (1880) mentions that it was frequented by brewers in C19th, it's sign was taken from the arms of the brewing company. It was first incorporated in Exeter in 1579. A photograph taken in September 1905 shows Butlers Hotel to be located in about the position the Three Tuns used to occupy.
W. Keeth was resident in 1850 according to White's Devon Directory at 8 High Street. This is also the address given by Besley (1828) with Jacob Jeffery as resident.
Andrew Brice's Mobiad refers to another 'Three Tuns' adjoining the east side of the Guildhall.
Stuart Callon Copyright ©2002-2004