Cavalry Barracks Canteen is listed as a pub by Pigot (1844), though it would only have been a canteen serving beer to the soldiers or officers.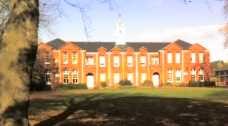 The Barracks as seen today.
During the late C18th there was some concern with regard to French forces invading England. Higher barracks was built in 1794 to accommodate a strengthened standing army. The barracks was surrounded by a high wall and included a Canteen, Riding School, Guard House and Officers Quarters and could accomodate 180 soldiers and 202 horses. The wall is still very visible today at the entrance to Horseguards. The residents on the LHS of Howell Road also have a rather high wall obstructing their outlook to the rear of their properties. I once had to paint a section of this wall in Howell Road and nearly killed myself in the process.
During WW2, the barracks were home to the American 53 Medical Battalion. 684 Medical Clearing Company also operated a dispensary at this time located in the barracks.
The barracks were used after the war, though in a much reduced capacity. Wyvern barracks trucks were garaged here and the buildings were mainly used for administration purposes. The buildings were also used to house people who had failed to pay their council house rent.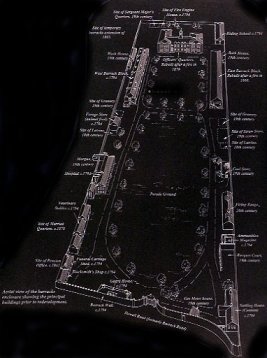 The picture above shows a reconstruction of the barracks (1988), prior to the "Horseguards" housing development in 1999. Copyright ©Exeter Archaeology
Stuart Callon Copyright ©2002, 2006