Eagle Tavern in Howell Road is shown on the map of 1876. Howell Road was built up in the 1830's and 1840's. In 1850, Howell Road was Barrack Road and the resident according the White (1850) was John Martin. Higher Barracks were constructed in 1792 and the road needed a new name, prior to this the road was known as Red Lane. The barracks have now been converted into a luxury housing scheme (around 1999 / 2000) incorporating the aptly named Horseguards.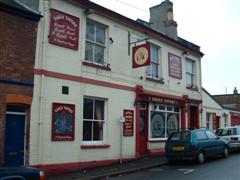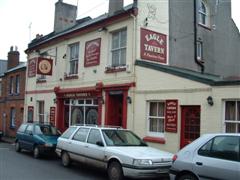 Originally opened as a pub in 1815 and known as the Duke Of Wellington, but is listed as Eagle Tavern (Pigot) in 1844. A "to let" notice from the Exeter Flying Post (24/10/1833) suggests that the pub was also called the Spread Eagle prior to 1833.
The Spread Eagle was an emblem of the Duke Of Wellington. It is highly likely that the name of the pub was a celebration of his victory over Napoleon at Waterloo.
Further sale notices also appear in the EFP in 1840, 1841 and 1846. The advert in 1846 describes the pub,
"...consists of a bar, a bar parlour, large room, three sitting rooms, tap room, several good bedrooms, brewhouse, cellar and two skittle alleys."
The pub was sold yet again at auction on 14th June 1866, lot 6 at the Queen's Hotel in Queen St. The owner, Samuel Kingdon had passed away. It was described thus;
"..comprising a frontage of 75 feet and a depth of 60 feet or thereabout.."
In 1892, the Heavitree Brewery took over the pub, being described as having 3 rooms for travellers.
The O.S. Map of 1876 shows Eagle Tevern to inhabit only the RHS of the two dwellings / buildings shown in the photos, suggesting expansion after this date.
After a further epidemic of Asiatic Cholera in 1866, the City Corporation discussed the possibility of using this pub as a reception centre for new cholera cases.
Rumour had it, that the national hangman would stay at the pub prior to executions at the nearby prison.
The inn issued checks was made by Charles Dipple of Birmingham in the period 1860-80, during the residency of Thomas Clark (EE).

The pub exists today but closed in May 2006 at 67 Howell Road and will be converted into flats.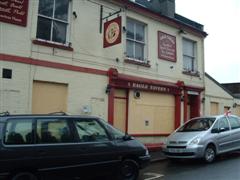 Original work, Stuart Callon Copyright ©2002
Re-investigated after David Cornforth ©2005, AND Express and Echo ©2006
Further investigation Stuart Callon ©2006, 2008
Stuart Callon Copyright ©2002-2008