In 1868 Robert Pople took over and the hotel was often referred to as Poples, indeed it was illustrated as Pople's New London Hotel in many of the guidebooks of the time. Robert Pople was Mayor of Exeter for three succesive years.
Somewhere in the region of 70 coaches departed the New London Inn. The mail coaches would take 20-24 hours to reach London. The Inn's Quicksilver service was supposed to be the fastest in England.
The inn had the capacity to cater for up to 300 horses a day and provided employment for around 3000 local residents.
With the advent of the petrol engine, the hotel quickly adapted, having space for up to 50 vehicles. There were private lock-ups, inspection pits and car washing facilities. In the 1920's a lock-up cost 12.5p / night and patrons could simply garage their cars for 5p / night.
The hotel was demolished to make way for the Savoy Cinema in 1936, this building later became the ABC Cinema. The whole site was re-developed around 1986 for shoppers with a mini-arcade added between Boots and the newer buildings on the corner of High Street.
The picture below shows the hotel standing next to the Subscription Rooms in the late C18th.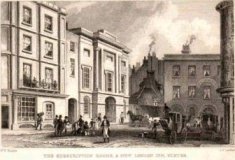 The original Old London Inn stood on the Paris Street / High Street corner according to Donn's map of 1765. The London Inn or Old London Inn became the Bude Haven Hotel.
Another London Inn (much younger) was located on New North Road at the side of and part of the old ABC Cinema, which was demolished in 1986 to make way for Waterstones et al.
In 1794-95 the Company of Waevers, Fullers and Shearmen held a dinner here costing £20.00 beside the contribution of the Junior Warden (Youings 1968). Dinners were also held here by the same company between 1815 and 1825.
Husseys hold details of the auction of Matford Lodge (Wonford Road) here on 10th March 1914 at 3.30 pm.
Later in the 1920's, rooms were 7 shillings (35p). If you wanted a double room, the cost was double. The restaurant was also open to non-residents. Plain breakfast was 10p, lunch 20p, afternoon tea 7.5p and dinner 30p.
London Inn square became popular with "young idlers" providing an insight into the lives of the rich and famous. The comings and goings of dukes, grand dukes, princess and many authors could be observed from the square.
Stuart Callon Copyright ©2002-2005