The Victory Inn was the starting point for various whit monday races to the Temeraire in Blackboy Road (now the Horse & Dray). This was prior to 1831.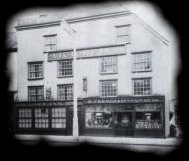 The Pub is shown on the O.S. Map of 1876 and was still trading in 1954 according to a photograph. At this time part of the premises were used by W. French & Co. who were animal feed, fertilizer and seed merchants.
They also had an adjoining site, the company was well known in the City until its' demise at the end of the 1980's.
French's premises were wiped out during the blitz but the Victory Inn survived but was demolished later during the re-development of Sidwell Street in the early 1960's.
The Greyhound Inn in Sidwell Street became the recipient of it's license.
The Victory (PH) is listed by Besley (1828) at 78 Sidwell Street, Harriet Gilbert as resident. Later street re-numbering shows the pub to be at 182 Sidwell Street in 1889.
Pring states that the pub was around in 1816 and that it was closed in May 1958. The EFP published a "to let" notice in 1818.
Fire broke out at the inn in 1882 according to the Exeter Flying Post (24/5/1882).
Stuart Callon Copyright ©2002