The White Lion is seen on the 1876 map and is extensively listed in the directories. There are several good photographs of the inn in Peter Thomas' books. Lost during the war.

First sen in the Exeter Flying Post 3rd April 1703 in relation to Mr Harvey, the landlord passing away.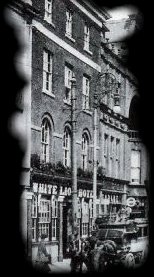 Was at 99 Sidwell St, prior to re-numbering and then at 7 Sidwell Street thereafter. Originally listed as an inn, later opting for hotel, the first hotel listing is 1895.
Stuart Callon Copyright ©2002