The Bishops Blaize was the patron saint of the wool trade, for which this area of land was primarily used reaching a zenith between 1670 and 1720. The Bishop was flayed using a Woolcombers rake.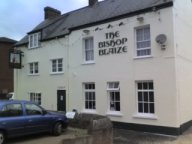 The Inn dates from 1327 and was the first to be opened outside the City Walls. It was originally a meeting place for the wool people; Tuckers, Weavers and Shearers before Tuckers Hall was built in 1471.
In 1880 Robert Dymond in reference to a pub called the Bishops Blaize in Sidwell Street, states that a degenerate specimen can also be found in Commercial Road so obviously this place was a bit of a dive in 1880.
A deed of 1882 states that it had a brewhouse adjoining. Pring states that it was previously known as The College.
The pub was known briefly as Nosey Parkers after 1979 before reverting back to the Bishops Blaize in September 1990. Nosey Parkers was a "disco pub" with a white flashing dance floor and was always very busy. Horrible place!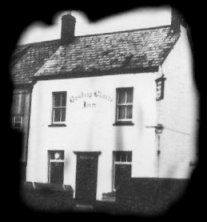 As the 1960 picture and the colour picture show above, when the pub was re-branded Nosey Parkers, the Inn had taken over the building next door around 1960. The OS map of 1876 also shows the pub only to inhabit the more easterly of three buildings, all of which comprise the pub today.
Besley (1960) shows Ernest W Stabb at Bishops Blaize cottage and the inn next door.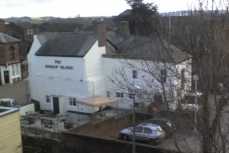 The buiding on the LHS originally comprised the pub.
The bishop himself is depicted on some tokens issued by samuel Kingdon (an iron-monger and haberdasher located in Fore Street) in 1792, these tokens though were not issued by the pub. There are three versions of these coins, two are shown below.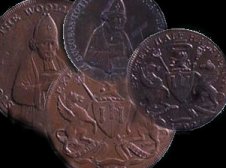 Stuart Callon Copyright ©2002, 2004