The Black-a-moor's Head can be seen on the OS map of 1876, and in a Peter Thomas photograph from 1910, though this tall building has since been replaced.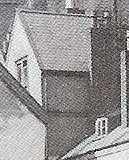 1910
The inn is mentioned in a newspaper advertisement of 1715 showing the amount of price competition at the time;
"Stout, ale and beer without doors for two pence per quart, and in this house for three pence per quart"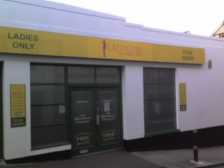 Today, building replaced by ladies only Gym
Thomas Brommel was resident in 1823 according to Pigot.
Black-a-moor's Inn is listed by White (1850) as being in Upper West Street. The resident is listed as William Yeo. According to Besley (1828), Thomas Bromell was resident. Kelly (1897) lists the pub in West Street (7) with Henry Dart resident. These are the same pubs, becoming known as the Blackmoors Head after 1889.
The last listing I found was in 1906.
Pring states that the inn may have been named after the Pirates of Algiers.
Stuart Callon Copyright ©2002