The Mill On The Exe is located beside Head Weir, above which formed a large pool until the river was later restricted by the recent flood relief schemes, and occupies part of an old paper mill.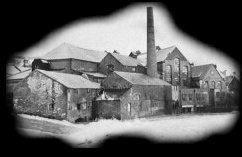 It was fulling mill for hammering and soaking woollen cloth to felt the fabric from the middle of the C16th, converting to papermaking and corn milling in 1787 driven by water turbines.
By 1844, Tremlett and Harris (pigot) had taken over the mill, (Tremlett E. N. & Co., White 1850) opting for paper-making only until around 1920.
The mill was demolished in 1882 after a fire. The re-built mill partly makes up the building seen today. When the water-flow was too low, a steam engine powered this new mill.
In 1896, the mills were up for let. Mr Edward Pym advertised, "the newly erected mills would manufacture every description of paper", and that he "would produce the most superior paper in the country".
The mill closed in July 1967 and lay derelict for many years. Much of the mill was demolished in 1982 and the remainder converted into this pub in 1983.
The lower bar was completely flooded during the heavy rains that hit Exeter in late 2000.
Stuart Callon Copyright ©2002