The Old Teignmouth Inn is shown on the 1876 OS map and appears in many old photographs of West Street. Pigot (1823) lists Daniel Day resident. It also gets a mention from White (1850) as The Teignmouth Arms. Resident was W. Dilling. Kelly (1897) lists George Southcott resident at The Old Teignmouth Inn (No.1 West Street).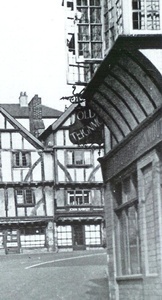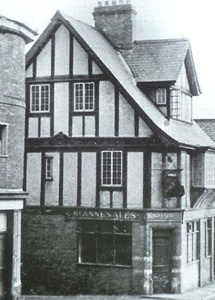 The directories illustrate that after 1852, the place was known as the Old Teignmouth Inn and prior to this year, The Teignmouth Arms but give away little else.
The place was a bit of a rough house with sawdust on the floors and regular brawls (thanks to PR Betts).
The EFP featured the pubb fairly regularly, "for sale" notices appeared in 1811 and 1878. Also in 1878 the EFP carried a notice for a "stock in trade" sale (22nd May 1878) at the inn which means that it probably closed at this time, albeit only briefly.
Of more interest however was the arrest (4th April 1817) of J. Keeth (the landlord) for passing counterfiet coins. He was convicted 3 weeks later.
Stuart Callon Copyright ©2002-2004, 2007