The Kings Arms Inn can still be seen close to St Mary's Church by the house that moved. No longer a pub but shown on the 1876 OS map.

The building can still be seen today in West Street.
The inn was the subject of a "to let" notice on 23rd November 1770 in the Exeter Flying Post.
Listed by Pigot (1823), Joseph Wellington resident, Besley (1828) and by White (1850) in West Street. Peter Palmer was resident. In 1897 Kelly lists the pub at No.9 West Street with William Philip Baker resident.
Most interestingly there are two entrys in Trewman's Exeter Pocket Journal, firstly in 1816 with A. Wellington at the New Blackamoors Head and later in 1822, James Wellington at the Kings Arms PH. It would seem that the New Blackamoors Head was a former name of the Kings Arms.
In 1886, the pub was purchased from Mrs Harriet Archer by the City Brewery who installed their landlord William Philips Baker.
The pub's license was declared redundant in 1936 and the building sold to St Marys Steps Council in September 1936. The licence was apparently transferred to the Green Gables.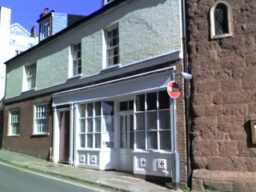 The pub in 1910 comprised both plots next to the church.
However the OS. Map of 1876 shows only the building shown in the top picture above to make up the pub, suggesting an expansion of the premises between these dates. A 1910 photograph belonging to Peter Thomas shows the building next to the church to be the Kings Arms as well as that next door and further up the Hill.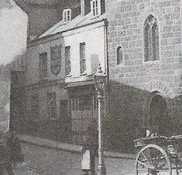 Kings Arms 1910
Stuart Callon Copyright ©2002