The Golden Eagle was a few doors up from the Exeter Inn in 1876. The current location of the Picture House cinema.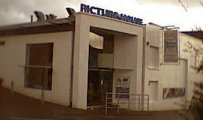 Listed by Pigot (1844), resident was Charity Brook, the address of 51 Bartholomew Street given away by White (1850).
The last listing I found was 1895.
The inn was the subject of a "to let" notice on 26th May 1842 in the Exeter Flying Post.
The building was demolished and replaced by a large warehouse that was used by fruit and vegetable merchants Percy Sercombe Ltd who were bought by Elders and Fyffes in 1970. This warehouse was again demolished prior to the construction of the Picture House.
Stuart Callon Copyright ©2002