The Queen Victoria is still going today having been renovated and extended several times. The picture blow shows the pub today.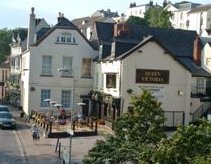 In 1960, the inn stood amongst a terrace of houses that have since been demolished (Western Way Construction). The photos below show this clearly. They also show the fact that the pub took over the premises of it's former neighbour, that of H. Carpenter who was a Paperhanger and Glazier. This picture was taken around 1960.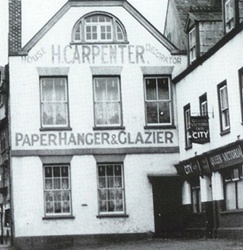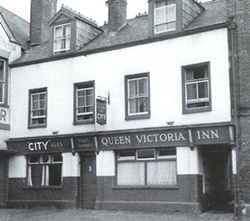 It is appears on the 1876 O.S map and gets a mention by Pigot (1844). Isaac Parkin is listed as resident.
A deed of 1875 states that it was with brewhouse, cellar, skittle alley and other premises and that it was formerly known as The Victoria Inn.
Until recently (2002-2004) it had a bad reputation for under-age drinking, drugs and sex but has now unfortunately cleaned up it's act!
Punch Taverns completed a £265,000 investment scheme in 2007 to give the pub a completely fresh look, it is now a traditional looking inn, complete with tiled floors, wooden alcoves and an open fireplace.
Stuart Callon Copyright ©2002-2008