The Pheonix Inn does not appear on the OS map of 1876. It is Mentioned in Dymond's 1880 paper as having enjoyed a good reputation throughout the last century. Dymond states that it was located midway between Goldsmith Street and the Fish Market, however other authors, notably Robert Newton (1968) place it firmly in Goldsmith Street.

The fishmarket was where the top end of Queen Street now joins High Street. A picture in Peter Thomas' Exeter, Yesterday and Today with accompanying text places it on the RHS of the reconstructed old Wool Hall facade (now the back entrance to M&S).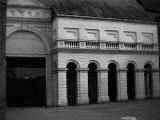 The gabled arch was the entrance to the Pheonix Inn. However this gabled arch reconstruction is farther away from the High Street than it should be and also on the wrong side of the Wool Hall. Peter Thomas kindly informed me that the entrance was just opposite the jewellers on the corner of Goldmith St and the present Waterbeer Street.
The pub is also mentioned in Brice's Mobiad where a desription of the pub sign makes up part of the poem. The sign displayed a picture of a pheonix in gold burning in spices and is depicted as the "The lonely bird of fweet Arabia fwings". A newspaper advertisement of 1726 states that the place had changed hands.
According to Robert Newton (1968) a meeting of the Exeter Carpenters and Builders took place at the Pheonix Inn (Goldsmith Street) in 1873. The Exeter Master Builders were charged with failing to introduce a nine hour working day in accordance with a previous undertaking. The builders were also asked to increase the basic rate of pay from 5d an hour for a skilled man.
Thomas Jones was resident in 1850 according to White's Devon Directory.
Donn's map of 1765 shows the Pheonix Inn to be on the High Street midway between Gandy Lane (now Street) and Goldsmiths Lane (now Goldsmith Street).
The building very nearly became a glass factory when it was taken over by W. Wills in 1803 (EFP 10th March 1803), however the building was sold onto Plilip Raddon a year later as a pub.
Daniel Cole was fined for serving after hours in 1819 (EFP)
A small fire was recorded here by the Exeter Flying Post 22nd February 1844.
Stuart Callon Copyright ©2002