The Current Thistle Hotel in Queen Street was built in 1875 at a cost 0f 30,000GBP by the Devon and Cornwall Hotel Company and was originally known as The Railway Hotel. Thistle Hotels took over the Rougemont in the 1990's when the hotel became known as The Rougemont Thistle and now just The Thistle.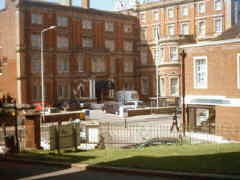 It was built on the site of the old Felons Prison which opened when the South Gate Prison Closed in 1819.
Drake's Bar was certainly around in the 1980's but is obviously an adornmment to the hotel, my guess is 1960's judging by the total lack of architectural thought. The hotel also features the Golden Hind cocktail bar.
Stuart Callon Copyright ©2002