The Artillery Inn inhabitted a roadside location now taken up by Colleton Mews until the mid 1970's.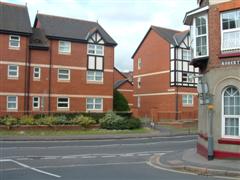 Was listed in Kelly's directory (1970) at 44 Holloway St. Pigot's directory (1823) lists Susannah Loveridge as resident at The Royal Artillery.
White's Devon Directory (1850) shows lists this pub as the Artillery Arms or Royal Artillery Arms with Jas. Gill as resident in two listings.
Later listings are for the Artillery Inn
The listing in Tewman's Exeter Pocket Journal is interesting because it tells of a name change from The Bombardier PH. to the Royal Artillery after 1816 but before 1823. R. Loveridge inhabited the PH in 1816.
The inn was seriously damaged by fire according to the EFP 27th February 1861. It was quoted as the Old Artilery Inn.
Pring notes that in 1964, it's two bars (saloon and lounge) were converted into one large bar.
Stuart Callon Copyright ©2002