The Hotel Barcelona was renovated from the West Of England Eye Infirmary (the building became part of Exeter University for a while).

The infirmary was founded in 1808 in Holloway Street, moving to Magdalen Street in 1813. It was rebuilt in 1901 by Sir Alfred Brummel Thomas. For more more history, see the Exeter Hospitals feature.

The 42 room Hotel opened early 2001 retaining many of it's original features. Inside is the Cafe Paradiso another trendy cafe bar and restaurant.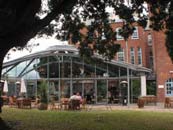 This bar is something else if you're interested in modern architecture and was added at the time the place converterted to a hotel. The structure is of steel and glass and is well worth a visit.
One word of warning though, its' a buffoons paradise. There is also the Kino Bar, which as you might expect is a cocktail bar but was originally the out-patients department. Kino is German slang for Cinema which is the bar theme.
The hotel closed in December 2008 for extensive refurbishment, "Temporary closure of Hotel Barcelona for extension and refurbishment works:
We would like to confirm that the Hotel Barcelona, Exeter, will be closing temporarily from 19 December 2008 for a period of 12 months. This is to enable extensive refurbishment and extension work to be carried out on the site following a successful planning application made earlier this year.
Stuart Callon Copyright ©2004, 2008