George's Meeting House

, was Exeter's newest pub in early January 2005 despite the fact that externally it looks dated. The building is in fact a former Unitarian Church (George's Meeting), built in 1760 of red brick and edged with quoins.

The pulpit dated back to the 1600's and was taken from the former James' Meeting House. The place was converted to shops and cafes in the mid eighties and was known as The Global Village but laid abandoned several years before JD Wetherspoon's converted the building into a pub.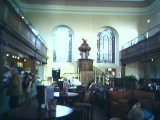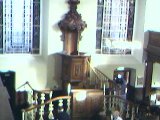 A two storey extension was added to the rear. Inside were oak-panelled galleries with ionic columns to compliment the tuscan portico out the front. The company have done a marvelous job of preserving a beautiful old building and putting it to a good modern use.
The pub opened on January 16th 2005. It is / was JD Wetherspoon's and Exeter's first non-smoking pub. The company wanted to gain experience of runnng a non-smoking pub in advance of the ban that came into effect in 2007.
What they experienced was a full pub for a number of weeks before the novelty wore off. Unfortunately most other pubs only experienced the worn off novelty in July 2007 and since then several pubs have been forced out of business.
A thoroughly well thought through piece of legislation. Now all the Eastern European bar staff can work in a smoke free environment with no customers. Has anyone ever heard of extractor fans?
Stuart Callon Copyright ©2005