The Valiant Soldier
The Valiant Soldier was not the first pub to occupy this site. A lease of 1623 shows a Golden Lion and prior to that, The Goat.
First mentioned by the Exeter Flying Post on 19th janury 1781.
Much of the area was demolished during the civil war to allow the defenders of the City a better veiw to the west from the City walls. This was when the Golden Lion was torn down, it was feared that General Fairfax would attack the South Gate in 1645.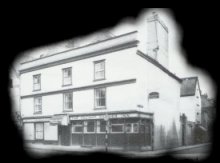 The Valiant Soldier was built to commemorate those who lost thier lives during the civil war. The Inn had a large yard for hitching horse & carts but with the decline of the wool industry, the yard became under used. It was in fact an old coaching house.
It is mentioned in 'A System of Discipline, Exeter Borough Prison' by WJ Forsythe in connection with the Southgate Goal in June 1818. The transfer of all the prisoners from Southgate to a new goal in Queen Street was due to take place in late June 1819 but was postponed because 40 City dignitaries were attending a dinner at the Valliant Soldier Inn.
They 'sat down to a excellent dinner...many toasts and appropriate sentiments were given and some excellent songs, catches and glees kept up the festivities till a late hour...a collection was made and sent over to the prisoners in the goal whom it was intended to have removed on the same day to the new prison but that was necessarily postponed.
The Lodge of the Operative Bricklayers' Society met at the Valiant Soldier in the latter part of the C19th (having previously met at the Brittannia Inn).
Exeter's Bricklayers and Masons had first attempted a trade union in 1834 during the heyday of Exeter's Victorian re-building. The middle classes were firmly against such a union or any trade union, as reflected by articles in the Exeter Flying Post.
The pub was compulsorily purchased by ECC in September 1961 and demolished a year later to make way for the Western Way traffic scheme. The same fate met many other historic buildings at the South St / Magdalen St / Holloway St intersection.
First listed in 1796, J. Hayman resident (EPJ).
The pub issues tokens in the early C19th to encourage patronage, picture below. Manufactured by SEAGE and Son, Exeter with a face value of 1 1/2 d.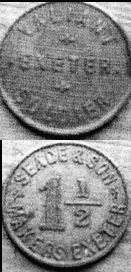 Another pub with this very same name was opened in St Thomas in 1972, click here to access this page.
Stuart Callon Copyright ©2002