The White Hart Inn is situated beside the former South Gate which for hundreds of years was the main route in and out of the City. The Inn was ideally sited to cater for travellers and their entourage including any pack animals they may have owned. The car park used to be the courtyard and later a park for horse drawn vehicles.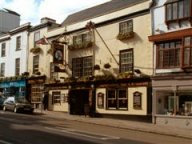 It is believed that the benevolent William Wynard used the Inn as his private residence when it was known as the Blue Boar Inn. The Blue Boar was one of the badges of Richard, Duke of York, the father of King Edward IV.
In 1899 daily coaches left from here to Crediton, Exmouth and Dawlish however in 1852, the destinations were far more extensive, click the link below. South Street will have been a little like a huge coach station in the mid C19th. Close by, carrier services also operated from the Black Lion inn and Ford & Co. also had their warehouse in South Street going to Axminster, Bridport, Dorchester, Honiton, Lyme Regis and Weymouth.
In 1766 during a difficult harvest, some cheese and bacon was lodged at a warehouse at the White Hart Inn. Many people assembled and broke into the warehouse taking away a large quantity of cheese. Several arrests were made but as the mob grew larger attempts were made to rescue those detained. During the melee one of the magistrates involved in the arrests received cuts over his eyes after he was pelted with stones.
The stables were extended and repaired in 1821 according to the EFP and the Wagon House was "for sale" in 1823.
Listed by Pigot (1823), John Lake resident and also shown on Donn's map of 1765.
Of interest in the listings is that of William Harris (tapper) who was the manager of the tap bar which still exists as such today. There is an entrance to this bar on South Street but it is permanently locked. Strangely though, this bar is listed in Coombe Street. Access today is gained via the alley covered alley between the hotel bar and tap bar.
Stuart Callon Copyright ©2002