The Tally Ho! exists today on the corner of Mill Lane and Countess Wear road. By a process of elimination this pub is that listed as the Oddfellows Arms by Besley's PO directory in 1895. It is not seen before this date.

The name change took place sometime between 1947 and 1960.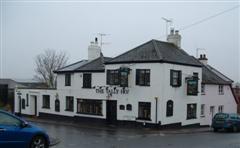 The pub appears to be comprised of 3 cottages probably acquired as trade grew.
I'm pretty sure that No.2 Mill Lane was also the public bar in the 1980's but was later converted back to a home. This is the pink cottage on the right.
The pub also has an extensive beer garden with children's play area.
Stuart Callon Copyright ©2005