The Ship Inn in Fore Street, Heavitree now the Ship and Pelican, was formerley tied to the Wellpark brewery which was located in Willeys Avenue, and prior to that, the Windsor Brewery which was located opposite the Windsor Castle pub over the road.

It did however once have its own brewery, the Ship Brewery run by James Sparks in 1873 and 1878 according to Kelly and White. In 1844, Pigot records a William Goodbridge brewing beer in Church Street, very likely at this pub. In 1885 this brewery was run by Brice and Burgoyne.

The pub became the Ship & Pelican in the mid 1980's but the pub dates back to around 1740. The parish dinner for the poor to celebrate King George IV's coronation was held in the Ship in 1821.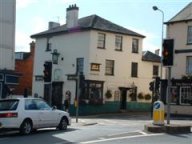 A annual revel used to take place in Heavitree at the turn of the C19th. Special tables were erected in the yard of the Ship Inn, the revel was followed by a fair which took place on Tuesday and Wednesdays with races taking place in Fore Street. A greasy pole was also put up on the pavement outside the Ship Inn. The idea was to climb the pole, the prize a leg of lamb.
Skittles was a popular game in Devon public houses, and the Horse and Groom has an alley that dates back to the turn of the 19th century.
The pub issued 1.5 penny tokens from 1890 when it was part of Crowson's Windsor Brewery Company.
William Heavens also issued 3d tokens made by Helmore, Exeter while he was resident (around 1889).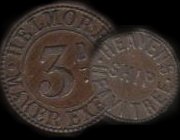 Stuart Callon Copyright ©2002, 2004