The St Loyes Hotel is not that old, in fact built in 1936 and opening in December of that year by Norman and Pring's City Brewery.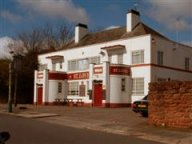 Named after the area in which it resides which in turn was named after the chapel of st. Eligius (the latin for St. Loyes), which was within the 'mansion of Wonford'. This mansion was most likely that known from the 15th century as St Loyes.
More information available within the pub crawl section, select Heavitree.
The Hotel closed in September 2008 as a result of the credit crunch.
Stuart Callon Copyright ©2002