The Crown & Sceptre was originally built in the late C17th or early C18th as Friend and Horton's Inn and is known today as The City Gate.

This building dates from 1835, the Iron Bridge on which it stands dating from 1834. The City Gate retains many of the original external features of the Victorian Pub.

The pub was rebuilt when the Iron Bridge was constructed. The original Inn is mentioned in the Exeter Flying post on 10th April 1778 when Robert Saunders moved to the George Inn.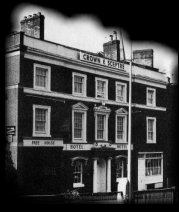 A fire in 2000 gutted much of the interior and it was re-developed resembling the minoan palace at Knossos with large columns in the bar area. There is also a bar downstairs which incorporates the now very important smoking area which was once exclusively a beer garden during the summer months.
The rear courtyards were designed for the use of horse drawn vehicles. Coaches left here daily in 1899 for Crediton, Dawlish and Exmouth, having expanded from just Bow and Thorverton in 1852, click link below.
The inn issued checks when FH Tucker was resident (1889-1898).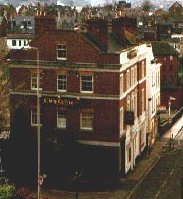 Stuart Callon Copyright ©2002