The Elephant Inn was a highly impressive building with a black & white Elizabethan front. Its large yard was built to accomodate horse drawn vehicles and was used extensively by the "carriers" in 1852.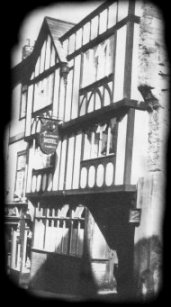 Shamefully this building was demolished for the building of the Guildhall Shopping Centre in the mid 1970's. The elegant looking brick wall and concrete path mark the spot.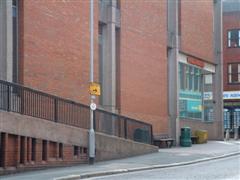 Dymond (1880) says that it was mentioned in the early part of the C18th, in fact 1728 in an advert from Brice's Weekly (building to let) and Hoskins (1960) says it was rebuilt in C17th.
Husseys hold details of a Hay sale held here in 1891 and the EFP carried a "for sale" notice on 17th April 1788.
The place was supposed to have been haunted by an American GI, killed by a cuckolded husband.
White lists the resident at 93 North Street as Philip Rattenbury in 1850. It also appears on Donn's map of 1765 and is mentioned by Besley (1828) as a coaching Inn, having a covered walk-through, front to rear, clearly shown on the map. See below.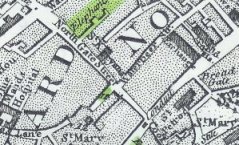 Donn's map 1765
Stuart Callon Copyright ©2002