The North Bridge is shown on a map of 1891 as a public house. Very likely to have been constructed at the same time as the Iron Bridge (1834).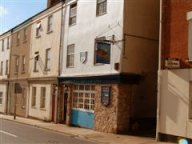 The name and pub have been registered since 1840. There are many original Georgian features in the building including some very well preserved and rare ceiling plaster work, the pub still exists today.
The directory listings indicate a name change to the New Ship Inn around the mid 1850s, only for the name to revert back to the Northbridge Inn by 1889. This is confirmed by Pring.
On 4th December 1954 a sale of 4 houses including the inn..."with underground cellar, bar, parlour, tap, kitchen, court, brewhouse, large dining room and 5 bedrooms", took place.
Unfortunately the pub closed on Wednesday 19th November 2008 presumably as a result of the"credit crunch".
Stuart Callon Copyright ©2002, 2005