The Imperial was originally built as the private Elmfield House between 1805 and 1810 with the only entrance from St Davids Hill. The original gatehouse lodge still stands today, though the main entrance is now in New North Road.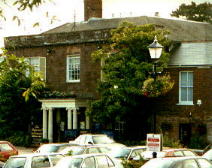 Elmfield house was the home of Dr Heberden, renowned for his studies in arthiritus. The people of St Davids used to hold their annual fete in his extensive grounds, however it was originally built for James Green, the famous County engineer as a home and office.
The garden was laid out by Sir Thomas Veitch. In the 1920's the Pollard family bought the house and began to improve it as most new homeowners tend to do. They got lucky at the expense of the owner of Haldon House (now The Haldon House Hotel). He had got the gambling habit and was busy blowing his fortune. He got to the stage where he had to start selling off parts of his home to pay off gambling debts and to feed his habit.
Builders from all over would turn up and buy bricks and anything they could get their hands on. Haldon House was a fine building (built for Sir George Chudleigh between 1725 and 1740). His home was intended to be a replica of Buckingham Palace and was designed by Robert Adam. At the time it was one of the five largest homes in England. The Folly that many of us can see on Haldon Hill and the Hotel are all that remains of the estate.
The Pollards builder managed to get hold of the pillanters, mouldings and cuban mahogany doors from Haldon House and he transplanted them into the Ballrooom of Elmfield House. The Ballroom now makes up the largest bar at the Imperial. During it's time as a Hotel it was the breakfast room and restaurant. The large conservatory that now makes up the large west bar of the pub was brought here and re-erected from Streatham Hall (now Reed Hall) in the University grounds.
The Imperial Hotel was purchased by JD Wetherpsoons from the Hawkes-Williams' who had run the place as a hotel for 40 odd years in 1994, opening as a pub on 14th March 1996 having spent £1.45m.
Stuart Callon Copyright ©2002-2004