St Anne's Well Brewery (a pub) occupied part of the site and buildings of the old St Anne's Well Brewery, built in 1878 in the yard of the Barnstaple Inn.

The buiding stradles Lower North Street and Exe Street. Water was piped in from St Anne's Well at the end of Sidwell Street. Starkey, Knight and Ford took over the brewery in 1960 to brew Whitbread beer. It closed in 1966. For more detailed information is available on the City Centre to Shilhay Pub Crawl.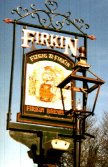 A pub opened in 1982 and was soon it was taken over by the Firkin Brewery and re-named the Fizgig and Firkin and later after a management buy-out, The Fizgig. These pubs featured their own micro-brewery viewable from the central stairway enclosed in a glass and steel case although it was quite often a huge ornament.
The Fizgig was shutdown in late 2001 because of complaints about the noise generated by live bands. Today the building is occupied by Starz Bar and Restaurant.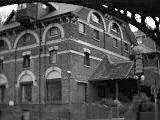 More detailed information on the brewery is available on the Longway pub crawl page and pop-up.
Stuart Callon Copyright ©2002,2004