An original Double Locks lockhouse was probably built in 1701 after the new locks had been installed. The Turf Locks Hotel at Topsham was built by James Green in 1827 when he extended the canal, he also extended or re-built the Double Locks Hotel.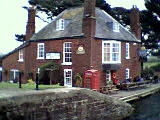 If you look closely at the brickwork on the Double locks Hotel you'll notice two types of brick suggesting rebuilding using some original material. The smaller and uneven red bricks are Tudor bricks or Dutch Clinker and most likely date from the original building (1701). The other type of bricks certainly appear to be Victorian, all the same size, and nicely finished.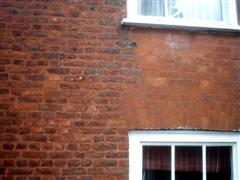 Note the differnt bricks.
Dutch clinker were imported in large quantities into Topsham in particular as ballast between 1701 and 1730. A map by Benjamin Donn in 1765, clearly shows the Double Locks building beside the canal.
The washrooms and conservatory were added to the buiding in the 1980's and the decking patio in the very early C21st.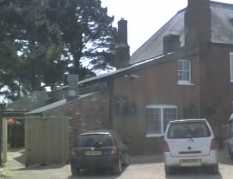 Extension including washrooms
The inn was initially a freehouse, later tied to Bristol's Smiles brewery before they went into liquidation. Youngs of London bought the pub from the liquidator in 2001.
Together with the last canal extension, tow paths were added along the canal banks because horses were required to pull the larger vessels. Stables were built at the Double Locks Hotel with further stables at the Canal Basin and at Turf. The barn bar may have been the stables.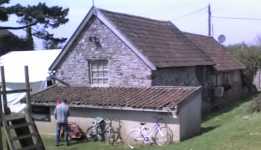 Possibly the old Stables
The barn itself displays some simple history, the grey limestone building pre-dates the brick building although there was some form of building where the red brick building stands today. This may have been of limestone, but my guess is wood with a stone floor. The picture below shows this very clearly with the newer red-brick building adjacent to and on top of the grey limestone earlier building.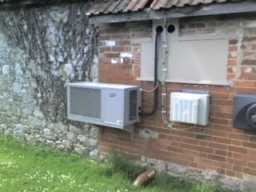 The grey limestone pre-dates the brick!
More information on the Double Locks and its immediate environment are available on the 'Ancient Quayside' pub crawl and by viewing the Canal and Double Locks features or pop ups.
Stuart Callon Copyright ©2002, 2004