The Fountain Inn has since been renamed the Prospect Inn, which incorporates the original Fountain Inn and the adjacent Rose Cottage.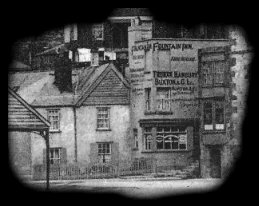 Between 1837 and 1850, Newton (1968) mentions it was famous for Skittles.
William Rollestone was publican in the early C20th (thanks to Pam Rodgers).
Pring notes that it was always a damp house and was sold in August 1954 to Seamans Hotels and re-named The Prospect Inn. In 1955 it was bought by the Daily Sketch who gave it away as a prize. Diana Dors handed the new owner (Philip Hilton, Kelly 1956) the keys, he was bankrupt inside 2 years.
The EFP mentions a Fountain Tavern on 25th December 1856 when James Venn was leaving the inn, This very same "Fountain Tavern" is also mentioned by the EFP 18th January 1782. Resident was a builder / bricklayer, Samuel Fley. A "for sale" notice appeared on 27th December 1787 for a house "...lately the Fountain Tavern", suggesting that possibly Fley had coverted an original Fountain Tavern into a house, which was later converted back to being a pub, the Fountain Inn.
A listing in Kelly's directory of 1960 shows that Rose Cottage was still a private residence, occupied by Walter Pearce. By 1970 (K), there is only a listing for the inn, no Rose Cottage.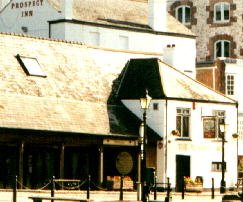 The picture above shows how Rose Cottage has been incorporated into the inn.
The cottage became the ferrymans house after the demolition of the original ferrymans cottage in the 1830's to make way for the large quayside warehouses.
The front part of the pub is actually part of the Quay House, this part of the building dating back to around 1680. This part ajoins rose cottage.
It also shows how Rose Cottage is incorporated into the ancient Quay House to the left. This is why the pub is claimed to be so ancient! The pub sign says "A 14th Century Inn". Total bollox.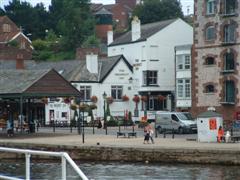 Stuart Callon Copyright ©2002