The Acland Arms was known as the Turks Head between 1799 and 1812. It was called the Mail Coach or the Royal Mail Coach after that and used to be a stop off point for the mail coach. An article in the EFP 2nd April 1835 confirms the name change to the Acland Arms.

It was held under the Dean and Chapter for 31 years from 1st Jan 1822 when it was known as Mail Coach. Pigot (1830) lists the inn as The Royal Mail Coach.

The picture shows the place as the Acland Hotel, which it became in the 1930's.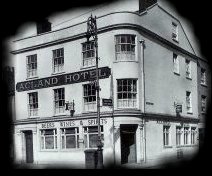 In the mid C19th, it was also used by the carriers.
Evelieghs Garage and Sidwell Street Motors (I think) occupied the site after the pub. Now the garages have now gone too, replaced by shops in 1998.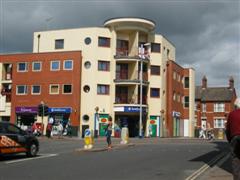 Sir Thomas Dyke Acland (1787-1871) was a Tory MP for Devon over a period of 40 years. The Acland family have been major Devon landowners for generations.
White's Devon Directory lists Peter Lisson as resident in 1850, he bought the inn during 1835 according to the EFP (10/9/1835).
The pub issued checks during the time H Webber (1883-1901) and GP Webber (1902-1923) were resident.
The pub was probably bombed during WW2.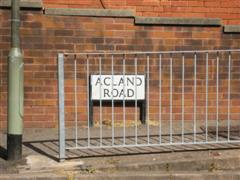 The Acland's and the pub are remembered in Acland Road and Acland Terrace close by.
Stuart Callon Copyright ©2002