Micawbers was once an old coaching house called the Star, serving the Bristol to Exeter run, it was also known as the Half Moon Inn prior to 1995.

The EFP mentions a Half Moon and Star (supposedly situated in Heavitree) and also a Half Moon (supposedly situated in Heavitree) which I think is this inn.

The Half Moon and Star is the subject of a "for sale" notice on 9th April 1829, and the Half Moon was the subject of for sale and stck sales in 1856, 1843, 1849 and 1863.

The Half Moon Inn was thatched until 1895 when a fire destroyed most of the outbuildings and the Inn itself.

This very same fire also put paid to three cottages over the road. The Wesleyan Methodists were using the outbuildings for meetings at around about this time.

The building was extensively re-furbished in 1955 when the new windows were put in on the side of the building giving the pub effectively the look it has today. See the pictures below.

September 1964 saw major demolition work on Half Moon corner with numbers 70 and 72 Whipton Village Road Removed. This space is now taken up by a larger corner and the pub's beer garden.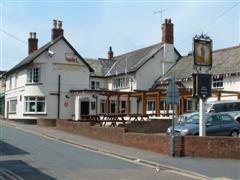 In 1945, Besley lists the Genral Stores on the corner with W.E. Prior resident. Sandwiched between the pub and the General Stores in 1945 was S.J. Radford, a grave-digger. The picture above clearly shows that todays pub is made up of at least 2 buildings, the General Stores would have occupied the car park and beer garden as can be seen in the picture below.
70 and 72 Whipton Village Road were demolished on 12th September 1964 and this space now features the pub's beer garden.
Stuart Callon Copyright ©2002-2004