The Heart Of Oak is one of the few thatched pubs in Exeter and stands along the main road in Pinhoe. The pub certainly looks old displaying cob walls as well as the thatch. However, the earliest directory listing is 1878 (White).

An auction was held here according to the EFP 28th July 1841.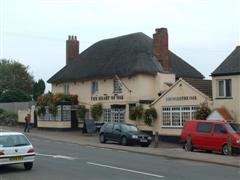 It was originally named the Heart Of Oak, but by 1889 had become The Hearts Of Oak, reverting back to the original name after 1939.
The small extension on the right is a modern addition and now houses the restaurant.
Stuart Callon Copyright ©2006