The Seven Stars was built here in 1960 to serve the farmers visiting the Cattle Market that used to occupy the site now housing Stone Lane Retail Park.

The Cattle Market moved to Matford in the early 1990's. Until the pub was updated in Feb/March 2003, the pub's sign depicted a cow with seven stars on it's horns. This sign was replaced at this time by the "Ember Inns" obelisk.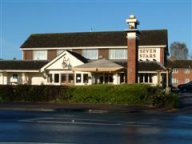 The pub underwent further re-development in April 2007 when 190,000 GBP was spent on the interior.
Stuart Callon Copyright ©2002-2007