The Cowick Barton Inn is a typical Tudor residence showing no obvious trace of earlier medieval construction, and indeed some stained glass now at the Victoria & Albert Museum in London (taken from the hall window) has been dated between 1539 and 1547 between when Russel became the owner and the death of Henry VIII. However the building also compares closely to other local buildings that are known to have been built later in the 16th or early 17th century. Bampfield House (destroyed in WW2) and Old Matford House both showed the same E shaped plan and internal detail.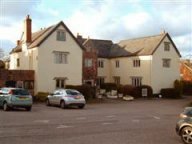 The plaster plaque over the fireplace shows the arms of the Baron family and the date 1657. The Barons are mentioned in the parish records from 1603 until the 1660's and it is possible that they bought the Cowick Barton from the Russels after being tenants. The Barons were merchants and leading members of Exeter's Company of Weavers and Tuckers which met at Tuckers Hall in Fore Street.
The Cowick Barton was aquired by Courage Brewery in 1963 who opened it up as a pub, Husseys had previously sold the building in 1920.
Stuart Callon Copyright ©2002-2004