The Falmouth Inn is now seen as the First and Last. It was rebuilt in 1913 and re-named in the early 1980's to reflect the fact that the first and last trams left here for central Exeter (1905-1931).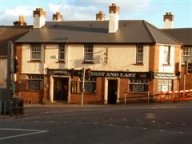 Until 1884 a gate and tollhouse had also stood at this point.
According to White, Charles Chapple was resident in 1850. C. Mudge was publican 1879-1883, however the initials on the coin below may well belong to Ambrose Pope who was publican 1894-1910 (ExCoin).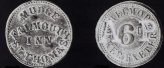 The inn was bought by the Hopback Brewery from Heavitree Brewery in 2007 and transformed into a real ale pub featuring six real ales. The building also got a major facelift. Picture below.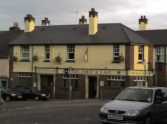 Since being re-built in 1913, it appears to have been renovated several times. The fireplace that was once a feature of the lounge bar can still be seen in the building. Originally there were two entrances from Cowick Street, one into the Saloon bar and one into the lounge bar which features the fire-place. The two entrances still exist.
This type of extension into one large bar area became popular in the 1980's.
Stuart Callon Copyright ©2002, 2004, 2007