The Thatched House - looks like an old pub but is in fact an old farmhouse converted to a pub in 1937, having been converted into three cottages in 1932. A listing by Kelly (1939), shows Ernest William Shire to be resident.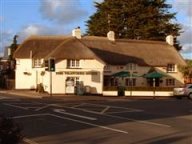 Originally built in the early 1600's, the pub still retains beamed ceilings, alcoves and fireplaces. The farmer's name is remembered in Guy's Road. Foxhayes was only a tiny hamlet for hundreds of years, Winchester Avenue was then known as Cleave Drive. The farmhouse was known as Foxhayes Farm according to the early O.S Maps, as shown below on a map dated 1890.
The pub closed in November 2008 as a direct result of the "credit crunch"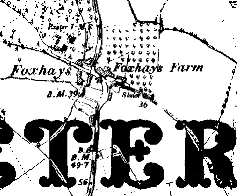 O.S. Map 1890
Stuart Callon Copyright ©2002-2004