The Poachers Inn has in the past been known as the Exeter Inn, The Railway Inn and the New Inn. The earliest reference to this pub appears in 1795 when its church rates were set at 1.5 d. The adjoining malthouse was rated slightly earlier in 1781.

The pub was known as the Exeter Inn and by 1800, the rate was one shilling and sixpence, the malthouse three shillings.

The Exeter Inn was famous for putting on musicals.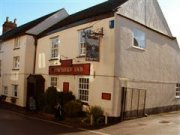 By 1851 the pub was known as the New Inn, with a Mr Densham Innkeeper and Maltster. There was a huge skittle alley out the back which could hold 200 people.
In 1912 an adjoining cottage was demolished allowing access to the rear of the Inn, where brewing took place.
Pring asserts that the Poachers Inn was The Railway Inn for a while during the life of the Teign Valley Railway (1882-1958). The change looks to have taken place in 1915, according to the directory listings.
J. Ryan was resident 1915-1916 (Besley), and Mrs Harriet Wilkes in 1919 (Kelly) at the Railway Inn. J Ryan was also previously noted at the New Inn. The place remained The Railway Inn until around 1964 (Pring), when it became The Poachers Inn.
The pub brewed its own ale until 1920, the last brewer being a Mr Scoble.
The malthouse burned down in August 1959 having been let as a welding shop. This was later flattened and converted into the car-park.
Stuart Callon Copyright ©2004