The Moreton Inn was closed in Nov / Dec 1970 and demolished in 1972 to make way for the St Thomas shopping centre.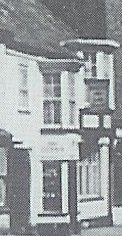 The Exeter Flying Post desribes the Royal Oak, as late the Moreton Inn in 1830. The pub had however reverted back to the Moreton Inn by 1833 according to a for sale notice (EFP) in 1833. A Rebecca Drown was resident, she had previously run the Lamb and Lion.
Frank Retter mentions the Inn in his book, "The stabling accomodation lay behind the inn and was reached by driving through a low covered passage between the inn and the next dwelling house". This will have been around 1910.
Junior Southcott was resident in 1850 according to White and Abram Caan in 1828 according to Besley.
The lounge and off license were modernised in 1961 and the large rear yard let to French & Co.
The name probably came from the fact that Cowick St used to be the Moretonhampstead Turnpike.
On 12th April 1792, the EFP advertised a timber sale at the New Moreton Inn, possibly the same inn.
Stuart Callon Copyright ©2002-2004