The Plymouth Inn was run by P. Mugford in 1850 (White). It also appears on Donn's map of 1765. The inn was demolished in the late 1960's to make way for the two new bridges and link roads. It also gets a mention in the EFP (1769) as the venue for a linen sale (21/7/1769).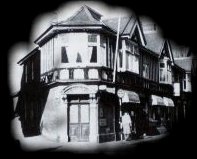 The directories illustrate an expansion of the premises at 24 Alphington Street in 1906 to 25 and 25 Alphington Street in 1912.
During WW2 when Getrude Pendleton ran the place, Pikes Garage next door to the Plymouth Inn repaired aircraft, the workers formed a club in the Plymouth Inn known as Wings Social Club. They had the use of the two billiard and snooker rooms. After the war, Pikes reverted to being a Garage.
The Exeter Flying Post also mentions a New Plymouth Inn. Joseph Hill was landlord at the Plymouth Inn in 1779, but left to become the manager of the New Plymouth Inn.
Stuart Callon Copyright ©2002-2005