The Royal Oak again not shown on any maps but again appears in Peter Thomas' very same book.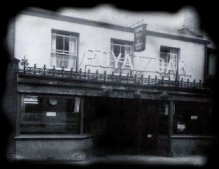 There was a fire at the inn reported in the Exeter Flying Post on 24th February 1831.
The buiding(s) were formerly Ashley House and cottage, in the hands of the City Brewery in 1884.
Totally rebuilt in 1906 / 07 at a cost of £3160.00.
Closed in March 1968 and demolished in autumn 1970.
Stuart Callon Copyright ©2002