The Sawyers Arms John Gibbs was resident in 1850 according to White, the building consisting of a small cottage, it was in fact a beerhouse. By 1852 however this had changed.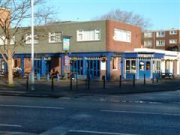 Was in the hands of the City Brewery in 1911 and used to have a brewhouse to the rear. In the 1920's, the cottage next door was incorporated into the inn. The old inn was demolished in 1957 and re-built 100 yards nearer Exe Bridge.
The current Inn, now simply known as The Sawyers was opened in April 1966 now at 121 Cowick Street rather than 114.
Stuart Callon Copyright ©2002-2004