The Seven Stars, was one of 16 Devon pubs displaying the emblem of St John Nepomuk, martyred in the River Vltava by King Wencelas. The pub was also famous for putting on plays which were performed either upstairs or in the Summer Garden.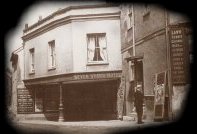 In 1880, Robert Dymond states that a pub had stood here called the Seven Stars for more than two centuries. George Fox preached here in 1657 and the Beggar's Opera was performed here in 1728 only months after it's publication.
In 1735, Exeter's first theatre was built in Waterbeer Street and at this time, plays were put on there rather than at the Seven Stars.
Was run by a Mrs Bragg in 1850 according to White, further listings by clicking link.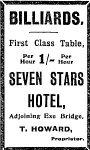 Advert, Besley 1916
Howards Commercial Hotel was situated by the bridge in 1906 according to some of Peter Thomas' photographs that I've seen and also the 1839 Tithe Map of St Thomas, Plot 6 which shows the Seven Stars.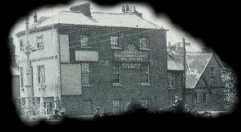 Newton (1968) mentions that in 1900, a Thomas Howard became a member of the new City Council. The records state that he was proprietor of the Seven Stars in Okehampton Road. Besley (1916) carries an advert for the Seven Stars, so sometime after this, the Seven Stars became Howards Commercial Hotel.
Thomas Howard was also a keen rowing enthusiast and promoted the Exeter Rowing Club. He ran the Hotel until 1923 (Kelly).
It is most likely that Howards Commercial Hotel incorporated The Seven Stars Hotel / Inn. The directories list it as a hotel rather than Inn after 1915.
The hotel was seriously damaged by an air raid on May 4th 1942 and subsequently fully demolished. Parts of it however were demolished in 1938 for road improvements.
Stuart Callon Copyright ©2002-2004