The Swan Inn was at listed as 11 Cowick St, and according t the EFP was sometimes referred to as The White Swan. The earliest mention in the EFP is 1764, when the landlords were James Gliddon and William Giles (a double act) handed over to Samuel Ball.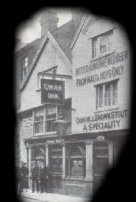 William Francis was resident on 5th August 1841 when a wrestling match was advertised in in the Exeter Fllyin Post.
The inn backed into Okehampton Street and must have had a large yard. In 1960, two firms of tobacconists had premises located in the yard of the 'Old Swan Inn'. The cul-de-sac we see today as Okehampton Place marks the site of the old yard.
The The White Swan is also mentioned by Pring as being in the parish of St Thomas in 1933.
Stuart Callon Copyright ©2002-2005