The Three Horse Shoes only just makes this site, right on the Exeter boundary, and is located at Upton pyne, Cowley.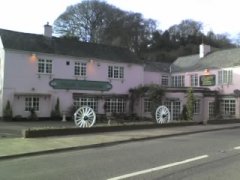 The building cetainly appears to be very old, I would guess C16th, and constructed initially of cob. Possibly originally a farm house with barn, later converted to a coaching inn to catch the trade between Crediton and Exeter. The first directory listing however is 1878 (W).
The EFP reported a protest at the inn on 18th June 1807 regarding the siting of the turnpike gate nearby. The death of a former landlord, Thomas Corrial was also reported on 6th October 1825.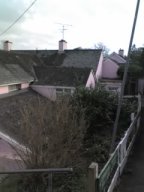 The Building(s), possibly 3 or 4 built at different times appear large from the outside but because of the thick cob walls, the pub is very cosey.
During the mid 1980's like many of these old pubs dotted around Exeter, the serving of food and pub lunches became very important for the finances of the pub. This is still very true today. The very large public bar became the restaurant.
Stuart Callon Copyright ©2006